Some Considerations for
Painted Bottles
My Enamel Painted Glass Bottle colors will remain bright on these bottles for several years, but the enamel paint will start to become discolored or flakey after a short while. It all depends on how much direct Sunlight they receive as well as other conditions. I have some painted bottles, which receive partial Sun, and have remained in good color for over 8 years. It's a kinda coin-toss. Painting glass is just so unreliable because of the smooth surface. Without roughing the surfaces, paint simply does not adhere very well to glass.

My LGBT Bottle Tree (below) was made about 18 months ago...two Summers and a Wisconsin Winter. The bottles might have a scratch here and there, but they still look pretty good. The Wisconsin Badgers Bottle Tree (also below) is about 6 years old. Painted bottles will also scratch easily...so handle them with care! One way or another, my experience with my painted colored bottles has been pretty good.

The above opaque colors are fun when used for the Holidays!
Red and Green for Christmas.
Red and White for my Wisconsin Badger's Tree.
Orange and Green for my Green Bay Packer's Tree.
Yellow, Pinks and Purples for Easter.
Black and Orange for Halloween.
Red, White, and Blue for July 4th.
Red and Green for Christmas.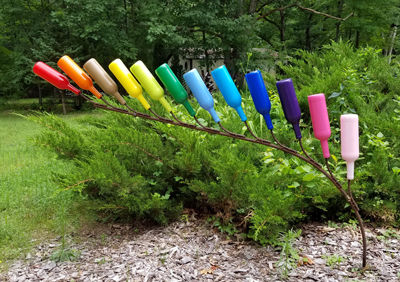 Add You to My Email List HERE...
750 ml Amber Hock

Rare French Antique Blue Green
Limited Quantities-I have a few left.
When they are gone...they are gone.



In the end...I useally opt for the Cobalt Blue Glass Bottles. The color lasts FOREVER and the blues contrast nicely with the greens of the gardens. But I must admit...the colored bottles are fun!

I have tried many of the translucent colored bottles you may find available on the Internet, but the color is a food-safe spray on and do not last in direct sunlight. They look good for the first few months...then they fade the second year...then they turn opaque and the sprayed-on coloring starts to flake off...leaving a very ugly bottle. But, they are pretty for one Summer at least.

If you really want a good translucent colored bottle, it NEEDS to be made with colored glass! Problem is...they are harder to find, and can get very expensive. For example, did you know red glass is made with gold?


A case of 12 bottles will cost about $18-26 to ship. You may mix or match colors and styles to make a case. You may also order less than 12 bottles if you wish, but, for example, shipping 6 bottles costs about the same as shipping 12.

My Customer Comments and Photos HERE...


Rare Sapphire Blue Glass Bottle
This is my FAVORITE bottle. Sadly, it's no longer available.
I treasure mine!


Rare Italian Godiva Water Bottle
You can find them once in a while on EBay